L is away in London for a week with her placement, working on the Culture Evolves exhibit at the Royal Society's Summer Exhibition.  If you're in London and fancy going along, it's on at 10-8.30 until the 4th of July, and is free!
So I'm trying to find ways to occupy myself while she's gone.  This afternoon I had a bit of a baking experiment.  Thanks to the new Poundland that just opened on Nicolson Street, I now have silicon bun trays (although they're actually more like mini muffin trays).  I made a dozen buns, three each of four flavours.  From left to right we have: Nuremberg Spice, Ginger (with a bit of golden syrup that made them stick a tiny bit), Apple and Cinnamon and Almond and Chocolate Chip.  As you can see, I'm not that good at separating the mixture evenly, so each set of three is slightly larger than the last!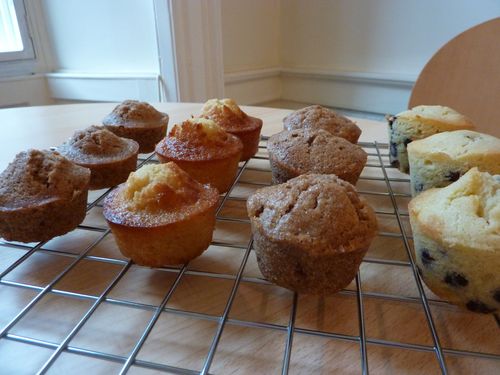 Apologies (again) for my absence.  My only excuse (not a good one, I know) is that I've been trying to balance getting better with writing my last essay (all finished, due on Monday!).  Hopefully normal service will now resume (at least until my exams in August, that is).