I was lucky enough to have the opportunity to go down to Jedburgh last Thursday on a field trip with my course to watch the annual ba' game.  I say game, but it's really not a game at all.  There are no rules - anything goes.  The town residents are split into Uppies and Doonies, depending on which half of the town they were born in/the direction they were brought into the town in the first time after they were born.  There is no visual distinction between the two teams - everyone just 'knows' which side everyone else is on - and any number of people can play - the teams are not equal.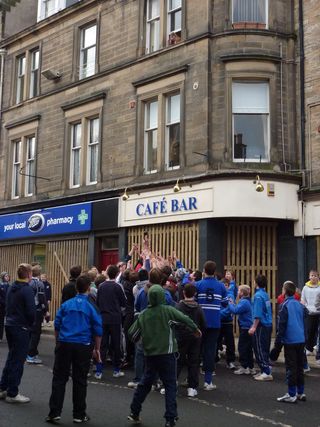 The aim is to 'hail' each of the small balls, which start out with ribbons attached like the one shown below.  Any method can be employed to achieve this, and smuggling is common.

Unfortunately we had to leave as the game was starting to heat up, with more men joining in as they got home from work, but it was still a fantastic opportunity to see a traditional contest we've studied actually in action.