Our room currently smells wonderful thanks to this beautiful bunch of daffodils L bought to cheer me up.  There's something so wonderfully happy about daffodils, and their trumpets seem to almost broadcast this happiness and brightness to every corner of the room.  I'd never really realised that daffodils smell so lovely before, despite the fact that we've always had lots in the garden at home.
The daffodil is also known as the 'yellow narcissus' (yes, it is a narcissus) or 'Lent lily' (no, it's not a lily).  The name 'daffodil' is thought to be derived from the Greek 'asphodel' - a flower which doesn't look anything like the daffodil.  Asphodels were associated with the dead, and were often planted around graves.  One section of the Greek afterworld was called Asphodel Meadows; this was essentially a plain of asphodels, and was where the souls of those people who were equally good and bad ended up - in between the Elysian Fields (similar to Heaven) and Tartarus (similar to Hell).  Asphodel Meadows was depicted as a land of neutrality, a less perfect version of life on earth, and a place that upon entry individuals lose their identities and become machine-like.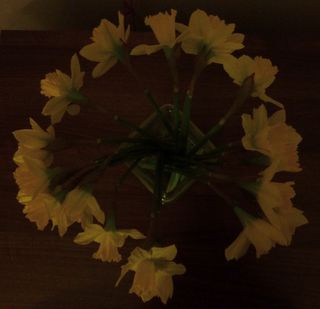 From this, you can tell that asphodels and daffodils don't look alike.  There's nothing neutral about even a single daffodil, let alone a field full of them.  No, for me a meadow full of daffodils would be a most welcome, happiness-inducing sight.