Ever since I can remember, I've always helped my Dad plant our potatoes on Good Friday.  I thought it was just a family tradition, so imagine my surprise when I found this in an article I was scanning through for a tutorial:
'Until quite recently Good Friday was the almost universal day for workmen in Somerset to plant potatoes.'  (Vivian and Mathews (1920), The Folk-Lore of Somerset, Folklore, 31, 3 (Sept.), p. 244.)
We're actually actively continuing a practice that was a tradition at least as far back as the early twentieth century, probably longer, using a tool that was bought by my grandad.  As an ethnologist, that's quite exciting!  Unfortunately this year most of the planting was delayed until yesterday due to rain, but we did manage to make a start on Friday.
Here is a record of our version of the tradition: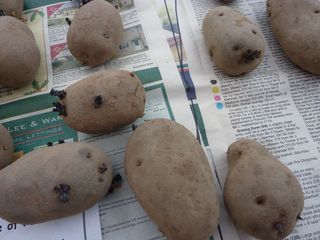 The seed potatoes chitting in the conservatory (this gives the shoots time to grow).
Our weapon of choice - the potato planter.
In action...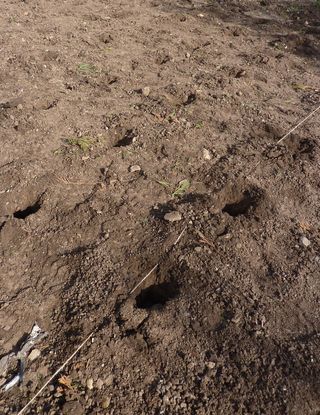 All ready to rake over the holes.  All that remains now is to wait...