A little while ago, I needed to get a glass of water and a plum from the kitchen to the bedroom. 
Now, you might think that was simple, but no. Our flat has heavy fire doors that close by themselves, so you always have to have one hand free to open them. 
The logical thing to do was probably to either have the plum in my hand and balance the glass, or to do two trips, but why be logical?
Surely plums must float, I thought. Wonderful.
So what did I do? I put the plum into the glass of water, because clearly that was the obvious thing to do.
It turns out that plums don't float.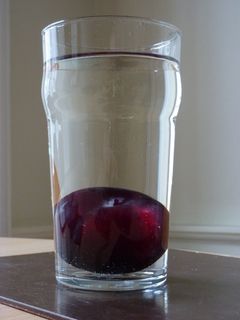 I was left with a bit of a dilemma - how to get the plum out without having to go back into the kitchen to empty the glass?
Luckily, on my desk was a discarded fork from the previous day - perfect! 
I stabbed the plum and lifted it out (thankfully it didn't then slide off and splash water all over me).
In my defence, I was ill, and my brain wasn't quite working properly. Hmmm, I'm not sure that's much of a defence...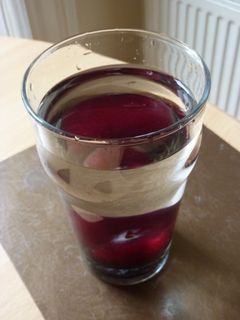 I almost did the same thing again today, then remembered what happened last time. So I took photos instead, then emptied the glass, retrieved the plum, and employed a more sensible method of transport for the two items - namely my dressing gown pocket (for the plum, that is - not the glass of water, obviously. I'm not that silly.).