Earlier this week, I decided to bake.  We didn't have much in the cupboards, and I couldn't be bothered to go shopping, so most (actually, all!) of the recipes I considered were impossible.  My eye was caught by ginger and chocolate cupcakes - we didn't have the ingredients (predictably) so I made up my own recipe.  After a minor setback when I thought my scales were broken beyond repair (luckily they aren't, but they still don't work all that well), this is what I came up with: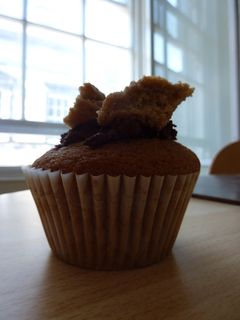 It's just a regular sponge cake, like you would make for a Victoria sandwich, with some spices added to taste instead of vanilla.  I used Nuremberg spice mix (bought at the Christmas market in Edinburgh but still unopened), which contains cardamom, cinnamon, anise, star anise, nutmeg, cloves and ?, and added some ground ginger.
As we somehow don't have a bun tray, I made them into muffins instead - I only had enough to make half a dozen but they are on the large side.  Once cooked and cooled, I cut the tops off and filled the holes with rich chocolate buttercream (butter, icing sugar, cocoa powder and a few squares of melted plain chocolate for extra chocolatiness), cut the tops in half and placed them on top like wings.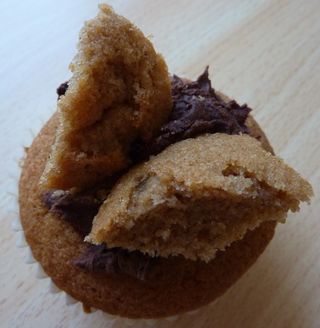 Not bad for a spur-of-the moment invention, although perhaps a little too reminiscent of Christmas for May!